Lot for Sale in Laguna Philippines
Location: Cabuyao, Laguna (Near Nuvali)
Lot Area: 156 sqm
Floor Area: N.A.
Bedrooms: N.A.
Toilet & Bath: N.A.
Carports: N.A.
Total Contract Price:
Down Payment: Starts at ₱ 29,330
Reservation Fee: ₱ 30,000
Camella Laguna Location
Upscale community in an ideal location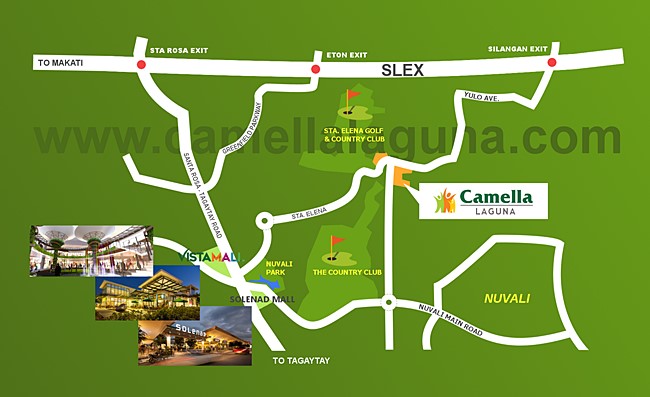 JUST 10 MINUTES FROM NUVALI
Live in the city also known as the Silicon Valley of the Philippines, Laguna. Your future home will sit where progress is highly valued and assured. Live where everything that you need for a home is just a few minutes away. Camella Laguna made sure that your house is not just comfortable but also appreciates in value your investment. Malls, Tourist Attractions and other progressive cities are made near to your future home.
End of search results. 1 item(s) found.
About Laguna Philippines
Discover the enchanting province of Laguna, nestled in the heart of Calabarzon, where nature, history, and entertainment seamlessly converge. Laguna provides an ideal location with easy access to nearby attractions. Merely a 1 hour and 40-minute drive via Calabarzon Expressway or STAR Tollway can transport you from Laguna to Batangas, unveiling a plethora of new adventures and experiences within reach. This province is a sanctuary for leisure and entertainment, boasting attractions such as the world-renowned Enchanted Kingdom, a theme park that guarantees joy and excitement for all. If a scenic drive beckons, a 1-hour and 50-minute journey via Pan-Philippine Highway seamlessly takes you from Laguna to Tagaytay, where you can bask in the cool climate and revel in breathtaking views. Immerse yourself in Laguna's rich historical tapestry by visiting landmarks like Rizal Shrine and the UPLB Fertility Tree, where echoes of the past resonate through time. Transportation is made convenient with the South Luzon Expressway (SLEX), ensuring swift connectivity to neighboring cities. A 1-hour and 30-minute drive via SLEX can effortlessly transport you from Laguna to Muntinlupa, emphasizing the province's accessibility. For a taste of the rural lifestyle, Laguna offers tranquil escapes like Nuvali and Sta. Elena Farm, where you can rekindle your connection with nature and find inner peace. If you're eager to explore more, a 1-hour and 10-minute drive via Lipa-Alaminos Road opens up opportunities for adventure and discovery, taking you from Laguna to Lipa. Relish family outings at the Fun Farm at Sta. Elena, adding a touch of leisure to your lifestyle. Laguna is more than a province; it's a vibrant mosaic of diverse experiences. Embrace the dynamic lifestyle of Laguna with Camella Laguna, where our house and lots are crafted to enhance your living experience amidst this remarkable blend of nature, entertainment, and history. Explore the essence of Laguna living with Camella Laguna, your gateway to an enriched life in the heart of Calabarzon.