Lot for Sale in Laguna
Location: Laguna
Lot Area: 88 sqm (bigger lot sizes available)
Floor Area: N.A.
Bedrooms: N.A.
Toilet & Bath: N.A.
Carports: N.A.
Total Contract Price:
Down Payment: Starts at ₱ 9,859
Reservation Fee: ₱ 15,000
Camella Laguna Location
Upscale community in an ideal location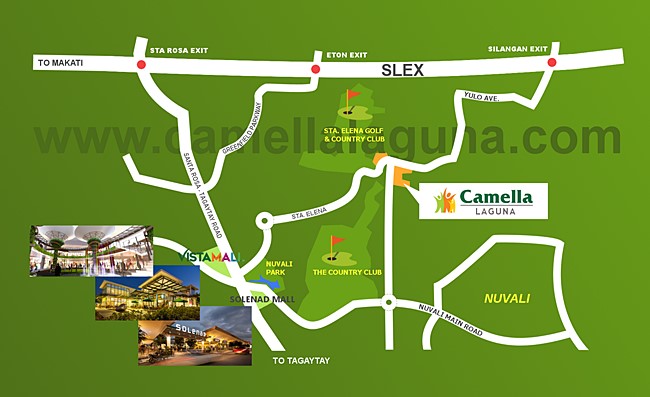 JUST 10 MINUTES FROM NUVALI
Live in the city also known as the Silicon Valley of the Philippines, Laguna. Your future home will sit where progress is highly valued and assured. Live where everything that you need for a home is just a few minutes away. Camella Laguna made sure that your house is not just comfortable but also appreciates in value your investment. Malls, Tourist Attractions and other progressive cities are made near to your future home.
LOTS IN OTHER LOCATIONS
Lots for Sale near UP Los Banos
Location: National Highway, Sitio Ilaya, Brgy. Sto Domingo, Bay Laguna, Philippines
Website: www.camellabay.com
Lots for Sale near Nuvali Sta Rosa
Location: Jose A. Yulo Blvd Brgy. Pittland, Cabuyao, 4025, Laguna, Philippines; 2 minutes from Nuvali Santa Rosa
Website: www.camellalaguna.com
Location: National Highway Brgy. Bubukal, Sta. Cruz, Laguna, Philippines
Website: www.camellastacruz.com
Lots for Sale in Nuvali Laguna
Location: Santa Rosa-Tagaytay Road Santa Rosa Laguna, in front of Serendra
Website: www.valenzalaguna.com
End of search results. 5 item(s) found.